Product Description
SH Series Cone Crusher
SH Series cone crusher feature a unique combination of crusher speed, throw, and cavity design.

SH portable cone crusher provide unbeatable performance in secondary, tertiary, and quaternary applications.

For high productivity, low operating and wear costs, long service life, and high product yield with desired fines, there`s no better choice than a industrial cone crusher
.
SH Series cone crushers have the highest capacities for their size in the industry.

The SH cone crusher creates a higher value product with less waste.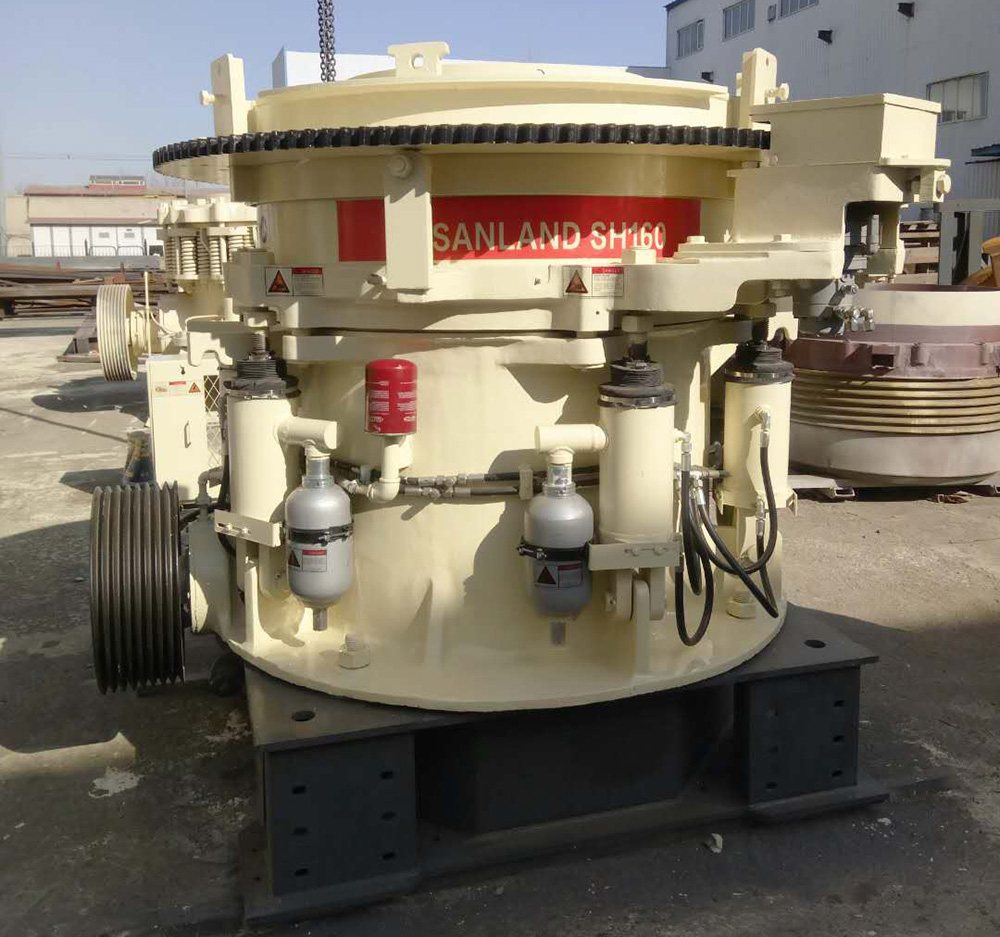 Based on some design principles of traditional multi-cylinder hydraulic crushing equipment like fixed main shaft, eccentric sleeve rotating around main shaft and lamination crushing, stone cone crusher machine makes a breakthrough on its structure. The structure after optimization improves the performance and crushing capability a lot. Meanwhile, hydraulic lubrication system of HPT cone crusher not only ensures the stable operation but also makes the system control more intelligent.
1. The crushing rate is high and the production efficiency is high.

2. Spare parts are less consumed and operating costs are low.

3. Interlayer crushing and better shape of finished products.

4. Hydraulic protection and hydraulic cavity clearance, high degree of automation, less maintenance time.

5. Dilute oil lubrication makes life longer.
(1)Sanland HP cone crusher is made with American technology and orignal drawing,hydraulic crusher, automatic cavity clearing, hydraulic adustment. The parts can be interchangeble with them.

(2)Grease lubricating system, low consumption and environmentally friendly.

(3)Less return materials( able to be reduced to 20%)

(4)Simple structure , convenient in replacement

(5) High rotating speed. less flaky particle and more cubic shape materials

(6)Electrical control section requirements by simple manual button control, the original parts adopt the highest standard,the famous brand of CHNT at home.
SH series cone crusher is equipped with contact-type spherical floating seal on the basis of positive pressure dust control and U-T type seal.
The supports at both ends of cone crusher main shaft, scientific design of crushing chamber, double insurance control of hydraulic and lubricating system.
Hydraulic cone crusher consists of frame, transmission, hollow eccentric shaft, bowl-shaped bearing, crushing cone, springs and hydraulic pressure station for adjusting discharge opening.
The axle of rock crushing equipment swings with the force of eccentric shaft shell so that the surface of the crushing wall is close to the roll mortar wall from time to time. In this way, the ores and rocks will be pressed and crooked and crushed.
Double safety control of hydraulic and lubricating system protects the hydraulic cone crusher from overload, and lubricates bearings better.